8 March, 2019
This Thursday, March 7 has been a very special date for the girls and boys members of the Cycling Academy Plaza Eboli of the Fundación Alberto Contador. The official photo session at the school's headquarters, located in the Plaza Eboli Shopping Center in Pinto, was the commitment that brought a new day of coexistence and companionship between the more than thirty members of the training structure and their monitors, with Álvaro and Fernando at the front.
The jokes and confidences changed the context of the usual outings by bike for a more solemn act where Alberto Contador did not miss. With some absence, up to three, all members and some of their parents, guardians and relatives, came to the mall facilities dressed in their equipment and the best of their smiles to spend a different time and share a photographic session with the exrider from Pinto.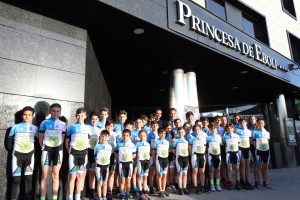 "Let's see those smiles," said Contador before a very young audience that ended up making some jokes with the temperature during the moments that developed the taking of snapshots outside, in front of the facilities of a shopping mall Plaza Eboli that has been substantially supporting the school and its activities and also gives it a place to house its headquarters, the sunny afternoon, not at all unpleasant, was still a winter afternoon. It is not easy to describe in words the special brightness of his eyes both in the photos with Alberto and in the individual interior portraits.
The Plaza Éboli Cycling Academy is one of the  Fundación Alberto Contador´s strongest bets for the promotion of cycling not only in its competitive facet, but also from a more playful perspective. This season, so far, is composed of 34 girls and boys, in addition to two cadet category riders. But its doors are always open to all those who want to approach the sport of the pedal. In a few weeks, as a complementary activity, never obligatory, always an incentive for many of the infants, the calendar of schools of the Madrid Cycling Federation starts.
"For the Plaza Éboli Shopping Centre, it is fundamental to provide support to those sports initiatives that help to create such important values as companionship, effort and respect. That is why for years we have supported the Fundación Alberto Contador with the sponsorship of its cycling school, of which we are proud to be a part. We are sure that in the future we will see some of these small champions go very far, giving continuity to the project initiated by Alberto," says Luis Simón Sánchez, manager of the center.
(automatic translation, sorry for mistakes)