2 October, 2019
Pinto (Madrid)
6 October 2019
Next Sunday the district of La Tenería de Pinto will become the capital of national cycling training. The third edition of the Alberto Contador Foundation Academies Race, which premieres the main sponsorship of Cofidis, guarantees a great participation that is causing a great acceptance beyond Madrid. Up to a dozen provinces are represented in the list of participants.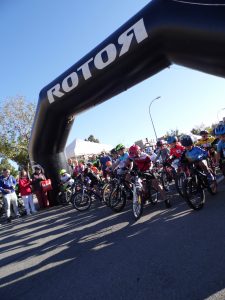 The last event in Madrid's academies cycling calendar will comfortably exceed 220 participants and its squad will include representatives from the most diverse geographical areas. The Club Ciclista Compostelano de Santiago de Compostela is, at the moment, the most represented foreign club, with fourteen members. Very close, with ten attendees, the Club Ciclista Dos Hermanas de Sevilla.
"It is a very gratifying fact that two of the clubs that will have more riders in the different tests are from outside the Community of Madrid and in addition to two distant provinces," says Felix Garcia Casas, sports manager of the Foundation. "I think we are going to be between 230 and 250 cyclists in the federated races". Between the popular and the federated race will gather about 350 boys and girls.
On October 1, in figures that can still grow before the close of registration set for this Thursday, the Cofidis Cycling Academies has sixteen children from the Principality of Asturias, fifteen from A Coruña, six from Murcia and assistants from locations as far away as Barcelona, Badajoz, Cadiz and Ourense or closer as Salamanca, Caceres and Toledo.
Parallel to the Academies Race, a non-competitive test of a popular nature is also launched and for the third consecutive year. This appointment is organized on the closed circuit of 1.7 kilometers. "The inscriptions are also going at a good pace and the last days are approaching, in which there is always greater pull and new ones aimed", concludes García Casas.
(automatic translation, sorry for mistakes)