18 September, 2019
III Carrera de Escuelas de la Fundación Alberto Contador
6 October, Pinto (Madrid)
The appointment, next October 6th. The streets of the district of La Tenería in the town of Pinto in Madrid will host the third edition of the Alberto Contador Foundation's Carrera de Escuelas (Cycling Academies Race), the last event in the Madrid Cycling Federation's cycling academies calendar. The great novelty of this edition comes from the hand of Cofidis. The French multinational, one of the firms with the most intense and lasting relationship with the sport of cycling, becomes the main sponsor of this great celebration of formative cycling.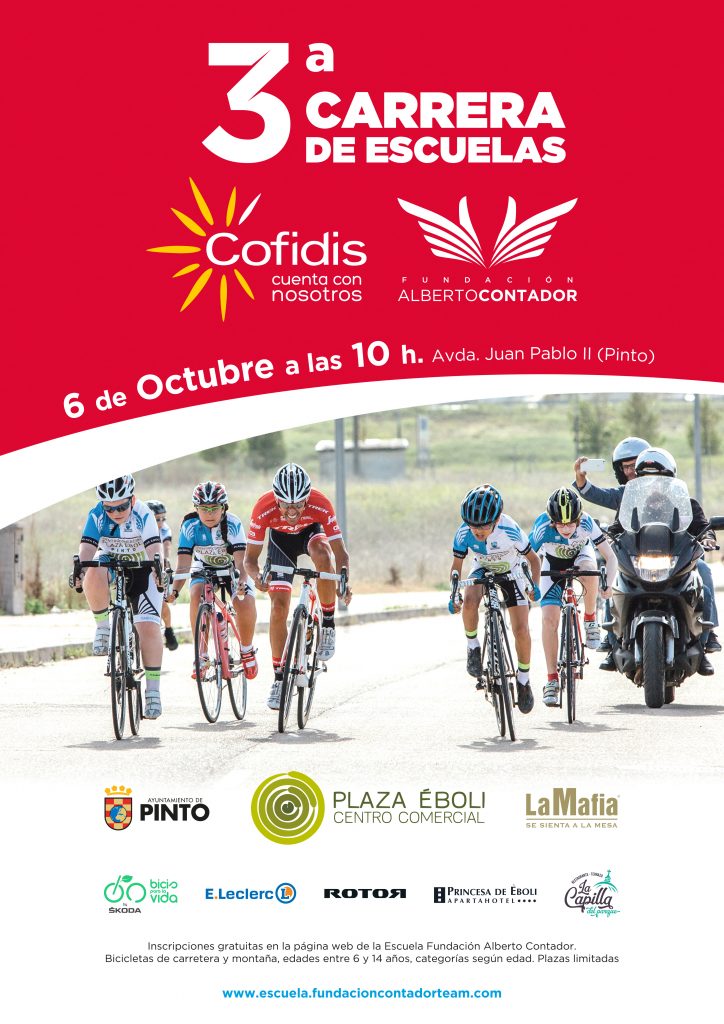 From 10.00 a.m. on a 1.7-kilometre circuit that will have its epicentre on Avenida Juan Pablo II, the different category races will be held. As in 2018, when this initiative was launched, the Alberto Contador Foundation promotes the celebration of a popular event for girls and boys between the ages of 6 and 14.
"To believe in cycling is to support it from the base", said Juan Sitges, general director of Cofidis Spain. "We collaborate with the Alberto Contador Foundation in several initiatives and we are very proud of the work that is being done. This race is another example of this and from Cofidis we wanted to support it from the beginning".
This popular race is free and you can take part in it either with a racing bike or with a mountain bike. The only requirement, given the existence of limited places, is to formalize the registration through the website of the Cycling Academy.  All participants will receive a participation medal and a bag with gifts.
As happened last year, the town hall of Pinto, the Shopping Centre Plaza Éboli, the chain of restaurants La Mafia se sienta a la mesa, the supermarkets E. Leclerc, the Hotel Princesa de Éboli, the restaurant La Capilla and Rotor Bike Components substantially support the organization of the Race of Schools.
"We are looking forward to Sunday, October 6, because cycling in academies is very authentic and that joy and passion is contagious and enjoyed like few others," says Fran Contador, head of the Foundation that bears the name of his brother Alberto. "Already last year we enjoyed a great day of cycling, with riders from all over Spain and even a large representation of an Italian cycling academy. The popular race was a very clear commitment to continue strengthening our commitment to promote this sport among girls and boys".
More info, here (spanish).
(automatic translation, sorry for mistakes)