8 October, 2017
The first Race of Schools organized by Alberto Contador Foundation was held this morning in Pinto (Madrid) with a great success of participation. More than 300 boys and girls between 6 and 14 years old took the start in the various races, which means doubling the usual number of cyclists who usually attend the races in Madrid.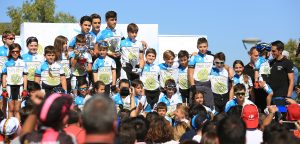 In federated categories, there were some qualifying races due to the high number of participants, coming from all parts of Spain, while popular races were also held (for children not enrolled in any cycling school) at all categories, which indicates the great interest of this event.
The Town Hall of Pinto closed for the occasion the Teneria Circuit, 1,800 meters long and very appropriate for races of this level and very safe for cycling. Thanks to the support of sponsors and contributors, all participants received a bag of gifts, plus a commemorative t-shirt and a medal, as well as trophies for the top three finishers in each race.
Alberto Contador did not want to miss the event and along with his teammate at Trek-Segafredo Jesús Hernández, was present in the trophy ceremony, where all the winners used to get an autograph and a photo with their idols.
Alberto Contador thanked the participation in this first race of his Foundation both the little cyclists and their parents and encouraged them to continue practicing "one of the best sports you can find to be formed as a person". In addition to posing with all the winners, Alberto Contador closed the event by posing on the podium with all members of the Éboli Plaza Cyclist School, which won the team victory.