30 June, 2019
A circuit of more than 2.1 kilometres on the Avenida Parques Nacionales de Ciempozuelos hosted last Sunday the last stop of a Madrid Calendar of Cycling Academies that came from a weekend without competition as a consequence of the suspension of the XXIII Gran Premio San Fernando de Henares for safety reasons. The VIII Trophy Schools Bike´s of the population of Madrid hosted a test that, in parallel, brought into play the regional titles at both alevín and infantile level.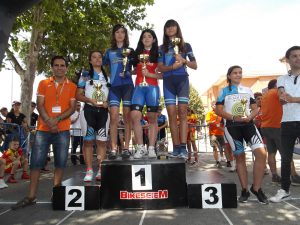 The first great joy for the, once again, nurtured representation of the School of Cycling Plaza Eboli came from the hand of Irene Pardo. The young member of the Alberto Contador Foundation Academy took the bronze medal in a female fry test where her namesake Irene Moreno (UC Coslada) reached the title with her seventh success of the year. Pardo, in the same way, signed the fourth place in the Gymkana; a gymkana in which the autonomic title of this category could also be played.
In the men's race for Beginners it was Tomás Franco who managed to reach the podium with a second place behind Rodrigo Díaz.  His teammate Álvaro Martínez signed the fifth place in the same race, in which Alejandro García (16th) also took part.
In the children's races, some interesting results for the members of the school. In the female category Sara Antón and Irene del Puerto finished fourth and fifth. In the male category, with up to five boys from the Pinto Academy in competition, Adrián Molina was the best at the finish line with his ninth place.
Álvaro García, Eboli Plaza Academy monitor: "The most important thing is always that the kids have a good time, because that is the priority objective. Going further, with titles in play as there were in Ciempozuelos, in addition to the great career that Irene did, we must highlight the good role that made the children in the Madrid Championship. Sara Antón, Adrián Molina and David Sánchez, in their careers, arrived with options until the final sprint".
(automatic translation, sorry for mistakes)