22 September, 2017
The first edition of the Race of Schools by the Alberto Contador Foundation will be held next October 8 in Pinto, which will also have a popular race for all kids between 6 and 14 years old who are not enrolled in any federated school.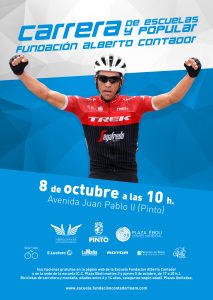 The competitions will begin at 10 am in the circuit of la Teneria, 1,700 meters long and with the start and finish located in the street Juan Pablo II of Pinto. There will be four official categories, Promises (8 years), Beginners (9 and 10 years), Fry (11 and 12 years) and Kids (13 and 14 years). The same categories will exist for those who want to compete without belonging to any federated school, although in these cases they must complete their registration on the website of Alberto Contador Foundation two days before the race as a deadline.
The Alberto Contador Foundation will be represented by the members of the Plaza de Éboli School, from Pinto, which this year has 37 boys and girls, most of whom will take part in the competitions. It is expected more than 300 kids from the whole Community of Madrid.
In addition to the trophies to the winners, all participants will receive a medal and a commemorative T-shirt as well as a bag of gifts.
Agreement with the City of Pinto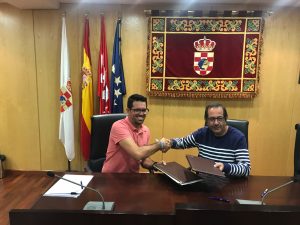 The Alberto Contador Foundation and Pinto Town Council, represented by its mayor, Rafael Sánchez, signed last Monday, september 18, a Collaboration Agreement by which the Éboli Plaza Cycling School also becomes the Municipal Cycling School. The agreement has an initial duration of one year, but both parties hope to work together for a long time.
The Alberto Contador Foundation School, which this year has completed its fourth season of work, hopes to increase by this way the growing number of registered children, as well as to become part of the programs of promotion and support of the City Council in the future.
The first fruit of this agreement was precisely the important collaboration of the City of Pinto in the organization of the First Grand Prix of Schools, which will take place on October 8. Together with the City Hall, the Plaza de Éboli shopping center, Pinto's E. Leclerc supermarket, La Capilla restaurant, Rotor, Princesa de Éboli Hotel and the restaurant chain 'La Mafia sits on the table'.
Inscriptions: http://escuela.fundacioncontadorteam.com/