4 July, 2019
Sara Antón's third place in the female Infantil category was the best result obtained by a member of the Plaza Éboli Cycling Academy of the Alberto Contador Foundation during the eleventh edition of the Villa del Prado Schools Grand Prix.
It was not the appointment of the calendar of the Community of Madrid with more presence of riders, since this one arrived in dates in which many families already enjoy their summer vacations at the same time that the geographic location of this town complicated some displacement.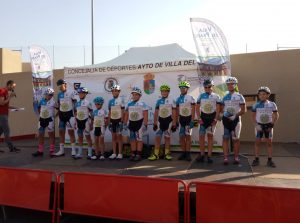 Sara Antón, who the day before was in the concentration organized by the Madrid Federation of Cycling in the Port of Navacerrada, finished third behind Diana Ballesteros and Lucía Moral.
Daniel Sánchez, seventh, and Samuel Ortiz, tenth, were the two representatives of the Academy that took part in the Infantil masculine category of this race.  Without representation among the youngsters, it was among the Principals, with the contest of Álvaro Martínez (fifth) and Marcos Santiago (fifteenth), where the school again had presence in the streets of Villa del Prado.
This Wednesday the Madrid Cycling Federation announced its call for some Spanish Championships of Cycling Academies to be held in Cheste (Valencia) during this weekend and this time will not have representation of the school.
(automatic translation, sorry for mistakes)