2 July, 2019
The Madrid Cycling Federation (FMC) organized in an enclave of great roots for the sport of the bicycle as the Navacerrada Mountain Pass a small concentration of riders of the academy category in which could not miss a representation of the Plaza Eboli Cycling Academy of the Alberto Contador Foundation. Although the concentration was going to last for two days, the children's riders only stayed on Saturday due to the celebration on Sunday of the XI Gran Premio Escuela Villa del Prado.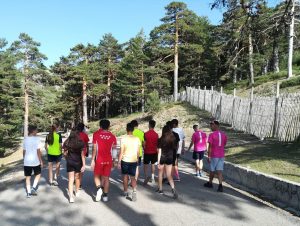 Sara Antón and Daniel Sánchez were the two representatives of the school in a call of fourteen names, six females and eight males, from which the coach of the Abraham del Caño category was going to extract the eight riders who will make up the Madrid selection of the category in the next Spanish Championships of School Cycling that will take place in Cheste (Valencia) during this coming weekend.
"The planned concentration and training have been very positive, and the atmosphere between them has been very good. They worked hard and applied themselves a lot, although it's a pity that they didn't have more time to do something else. We just have to enjoy what we can do in Valencia whether it is very good or just good," said Del Caño to the press service of the Madrid Cycling Federation regarding the experiences of this weekend.
Antón and Sánchez were not the only names linked in some way to the Alberto Contador Foundation Cycling Academy. Two of the cadet cyclists summoned for this experience, Miguel Ángel Molina and Jorge Montero, passed in their day by the Plaza Éboli Academy. And similar is the case of Roberto Vara, summoned by his side within the specific call for the mountain bike modality.
(automatic translation, sorry for mistakes)